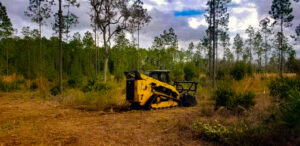 There are many factors to consider when you are in the market to hire a land-management company. At ShadowCat Services, we believe the top two items are quality on-site service and sincere customer service. Another factor is price. We specialize in forestry mulching clearing, which is often a cost-effective option to older clearing services, because there are no hauling or disposal cost or inconvenience. Next would be that the business is legitimate, which is easily confirmed by visiting the State of Florida's Division of Corporations (commonly referred to as Sunbiz) and searching the name of the company. When those factors are meet, the rest is finding the right fit.
At ShadowCat Services, we believe that communication is key. In this post we wanted to share our workflow for most jobs. We have heard so many stories from customers about companies that take a deposit and no show, and even when no money has changed hands, it is difficult to get someone on-site to do the work. We believe that this segment of the industry has a large percentage of operators that do not own their equipment. To be sure, these machines and the attachments are expensive. However, when you hire someone that rents the equipment, they will always be beholden to that equipment being available on your service day. In the rental industry, the person that has the machine is allowed to keep it beyond the rented time; therefore, it is often the case that operator's that cannot secure a machine on your service day either no show or have multiple reschedules before they are able to secure the machine for your service. Yes, we own our machinery and we also maintain a regular maintenance schedule to ensure that our equipment is running as smooth as possible.
ShadowCat Services Communication
 You will receive a written Booking Confirmation via text or email that will have the main information for the service, as seen in the text message example below.
As you can see, including in the first communication is a Service-Day Guidelines and Checklist. The guidelines go over information about safety and property conditions (if you live on a dirt road, service area has man-made debris, and etc.). The checklist is a short survey (less than 10 questions) that will alert us to any potential issues at the time of booking. We understand that complications arise with little notice, the checklist just helps to keep those at a minimum and to ensure that your service day goes smoothly.
The second communication you will receive one to two days before your service date. It is to check in with you and ensure any issues (like parking access, gated areas to navigate, and etc.) have been resolved. We will also alert you to any weather-related concerns for your service day, as well as, confirm with you that the property hasn't become wet or squishy in the service area. Wetness may require us to have to reschedule the service.
How To Prep Your Property
Unloading Access: ShadowCat will be hauling our machinery on a Kenworth T-800 Rollback. Let us know immediately if you live on a non-paved road. If you live on a hard-packed dirt road, we will want to know prior to arriving to ensure we are aware of the conditions. If you live on a sandy or soft dirt road, we will need your help in finding an alternative way to get to your property. As this may take time, it is important to let us know immediately.
Service Access: If the service area is gated, we will need a minimum of 8-feet of clearance (if we are able to come in straight). If any structures or trees force us to come in at an angle, we require a minimum of 12-foot clearance. Be aware that any sodded areas can be damaged when we are working. Make sure to let us know if we will be working or accessing the service area via a sodded section or path. We may have options on how to minimize damaging sod.
Debris: As we touched on earlier, we need any debris that may damage or roll up in our drum removed from the property prior to your clearing day. This includes concrete, cinder block(s), tarps, tents, fencing, barbed wire, and etc. Time spent cutting material out from our drum comes off the cutting time. There are some instances when a small amount of debris cannot be removed. In this case, mark the area with caution tape, orange flags, or paint the surrounding vegetation so that it is visible from the machine and we will bypass the area.
Other materials: Make sure to notify us immediately if sprinklers, irrigations lines, cable lines, and/or low hanging lines of any type are within the access or service area. Often we can work around these issues, but knowing ahead of time is key. We may also need to be sent pictures of these items.
Permits: ShadowCat always recommends to check with your governing municipality regarding codes for your property. As a property owner or potential property owner, your understanding of your property, easements, and limitations (such as wetlands) will help you successfully navigate maintaining or developing your property. This also includes protected vegetation and wildlife. Any vegetation that cannot or should not be removed, is to be marked with orange flags or paint at a minimum height of 4 feet so that it is obvious when in the machine to bypass the area. Wildlife, such as gopher turtles and their habitat are also to be clearly marked. If you have a gopher turtle hole, but have not seen a turtle, it is important to know that the hole is also protected.
Boundaries: It is always ideal for the property boundaries to be marked and on long lines (more than 100 feet). However, if isn't always necessary. ShadowCat can use a GPS locator to approximate the property boundaries when necessary.
What to Expect When We Arrive
Current Conditions/Scope of Work: David will walk the property/service area with the property owner/representative. This is an important time to confirm the scope of work and current condition of the property. It is also an opportunity for the property owner to point out any access areas, protected vegetation and wildlife – everything that applies from the How to Prep Your Property section. David will also provide a timeline for the work as well as coordinate meeting at the end of the job. He will then unload the machinery to begin work.
What to Expect When We are Working on Your Property
We enjoy having our property owners on site and encourage collaborating to ensure the outcome you desired. If you, your representative, or family (and pets) decide to stay during the clearing, make sure to read the Guidelines mentioned above carefully. Below is an excerpt from ShadowCat Services' Guidelines:
Safety: Safety is the primary concern when anyone stays on site the day of service. Wear bright clothing, so that you are visible to David. The safest way to reach David while he is working is to call him at 407-312-7779. When he is maneuvering the machine, he has limited view of his surroundings. You should never approach the machine when it is running.
Forestry Mulching: Never get within 300 feet of the front of the machine or 100 feet on all other sides when the forestry mulcher is running as the machine can shoot debris that can ricochet and be propelled in an unexpected direction.
What to Expect at the End of the Job
Recap Work: If the property owner or representative is available, David will recap what was done and any areas that may have been worked around because of the property conditions. If you have a multi-facetted job, David will go over his recommendations for next steps for your project(s).
He will answer
any questions you may have about the work, future work, or next steps on the timeline for your bigger project. If the property owner/representative isn't available for the recap, David will share before-and-after pictures of the property. We encourage follow up phone calls to answer any questions about the service.
Payment: Payment is due at the end of the job when the property owner/representative is present. The only time a pre-payment is required, is when there is no one to meet us onsite.
Load/Leave: After the recap, answering any questions, and payment is made (if not already made), David will load the machinery and leave the property site
A Note from David and Sherri
We hope this insight into our customer-based best practices is informative. The ideal process is one that the property owner and ShadowCat work together to transform the property, meeting the owner's vision for the work. There is a confidence that should come with hiring a company with ten-years experience, that owns and maintains their equipment because it is their livelihood. We always strive to gain that confidence and hope the final product will exceed your expectations.  If you have any questions about our service or would like to get a free estimate for your land-clearing/management needs, contact us via phone or text at 407-312-9075.